Learn about JPort, Shukatu101
Hi, there.
I am glad that you are reading this.
JPort CEO, Hiromi Karahashi san was a speaker at our Career Seminar on July 15, 2023.
JPort is a company that helps international students who wants to work in Japan or in an international environment.
If you register, you can learn from so may Sempais, from all around the world,  who are working in a Japanese or international company in Japan.
Also you can find so many other interesting information.
Did you register, JPort?
If you hadn't yet, why not.
Here are some more information he shared with us after the seminar.
They stared the ELearning courses "Shukatu101" , where you can learn from basic to advanced courses about Job hunting in Japan.
Click here.
https://jportjournal.com/course/10009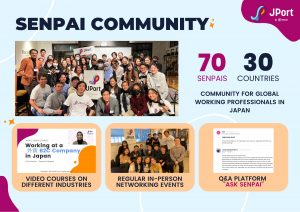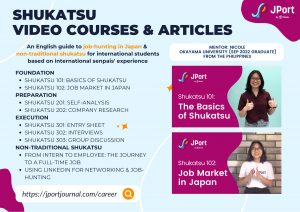 If you are interested in this post,  you should read this, too.
http://labguide.bio.nagoya-u.ac.jp/NUEMI/announcements/2258.html
(JH)